Weeds are a common problem for people with artificial grass lawns. However, there are several ways to prevent them from growing through the turf. In this article, we will discuss some tips that can help you keep your artificial lawn looking neat and tidy, without any pesky weeds popping up in the middle of it!
Stop weeds growing through artificial grass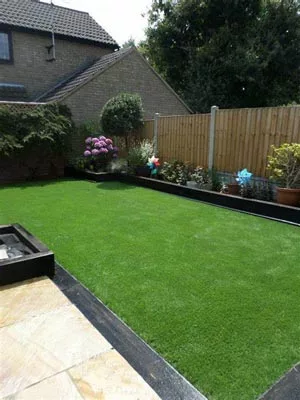 Artificial grass is a great way to have a neat and tidy lawn without having to worry about any pesky weeds popping up in the middle of it. However, if you don't take some precautions, weed growth can still be a problem. Here are a few tips on how to stop weeds from growing through your artificial grass:
1. Make sure the area where you'll be installing your artificial grass is free of any existing weeds. If there are already weeds present, they'll need to be removed before you lay down the artificial turf.
2. Apply a weed barrier fabric over the area before you install the artificial grass. This will prevent any new weeds from taking root in the soil beneath the turf.
3. Once the artificial grass is installed, be sure to regularly inspect it for any signs of weed growth. If you do spot any weeds, pull them out immediately.
Tips for preventing weeds in artificial turf
It can be frustrating when weeds start growing through your artificial turf, but there are a few things that you can do to prevent them from happening. Here are a few tips:
1. Use a weed barrier. A weed barrier is a layer of material that you can put over your lawn to prevent weeds from growing. This is a great option if you're worried about weeds growing through the turf itself.
2. Use herbicides. There are certain herbicides that are designed to kill weeds without harming the turf. This is a great option if you already have some weeds growing and you want to get rid of them quickly.
3. Remove any debris from the turf. Debris-like leaves and twigs can provide a place for weeds to grow. Be sure to remove any debris that you see on the artificial turf.
4. Keep the turf clean. Weeds can also grow in dirt and grime, so it's important to keep the turf clean. Regularly sweep or vacuum the turf to remove any dirt or debris.
5. Inspect the turf regularly. It's a good idea to inspect the turf regularly for any signs of weeds. If you see any, be sure to remove them right away.
I already have some weeds growing in my artificial turf. How do I get rid of them?
If you have weeds growing in your artificial turf, you'll need to remove them as soon as possible. You can pull them out by hand or use a weed removal tool. You can also use herbicides designed for killing weeds without harming the turf.
Conclusion
Weeds can be a problem for people with artificial grass, but there are several ways to prevent them from growing. By following the tips above, you'll be able to keep your lawn looking neat and tidy without any pesky weeds popping up in the middle of it